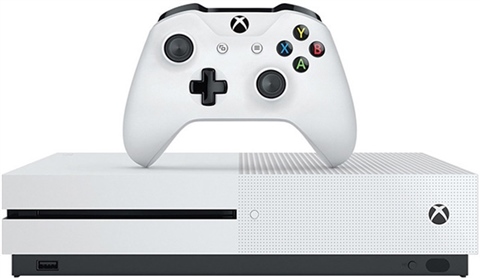 Xbox One S 500GB Wit, Met Doos

We verkopen voor
€225.00
We kopen voor geld

€130.00

kopen voor tegoedbon

€157.00

Online op voorraad
Xbox One S 500GB Wit, Met Doos
40% kleiner. 500GB opslagruimte. Interne voeding.
Speel de beste line-up van Xbox One- en Xbox 360-games ooit op een 40% kleinere console Laat je niet misleiden door het formaat: met een interne voeding en tot 500GB interne opslagruimte is de Xbox One S de meest geavanceerde Xbox ooit.
HDR-technologie
Geniet van rijkere, fellere kleuren in games als Gears of War 4 en Forza Horizon 3. Door de hogere contrastratio tussen lichte en donkere beelden zorgt de HDR-technologie (High Dynamic Range) voor meer visuele diepte voor je games.
4K Ultra HD Blu-ray en streaming
4K Ultra HD heeft een 4 keer zo hoge resolutie als standaard HD en zorgt voor de scherpste, meest realistische beelden die er zijn. Stream 4K-content op Netflix en Amazon Video en bekijk Ultra HD Blue-ray-films met oogverblindende HDR beeldkwaliteit.
Infraroodblaster
Schakel andere apparaten in met je Xbox One S, zoals je tv, A/V-receiver en kabel-/satelliet-receiver. Dankzij de geïntegreerde IR-blaster heb je geen andere afstandsbediening meer nodig, of je nu games speelt of een film kijkt.
Xbox draadloze controller
Geniet van nog meer comfort met de nieuwe Xbox draadloze controller met een verbeterd, gestroomlijnd ontwerp. Het draadloze bereik is tot twee keer zo groot. Meer controle dankzij de grip met textuur. Dankzij Bluetooth-technologie kun je jouw favoriete games spelen op pc's, tablets en telefoons met Windows 10.
---