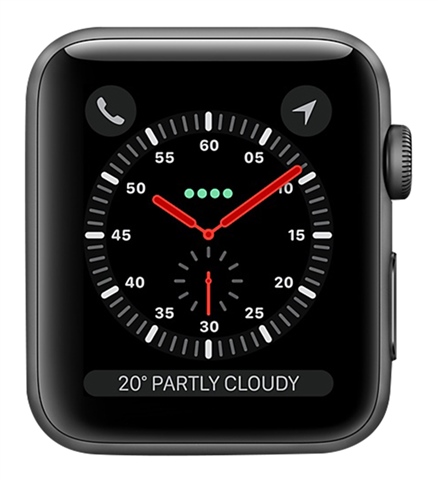 Watch Series 3 (GPS) FACE

ONLY, Space Grijs Aluminium,

38mm, A

We verkopen voor
€320.00
We kopen voor geld

€208.00

kopen voor tegoedbon

€240.00
Watch Series 3 (GPS) FACE ONLY, Space Grijs Aluminium, 38mm, A
*Dit product is enkel de wijzerplaat, de horlogeband wordt apart gekocht/verkocht.
Superieur sporthorloge
Verleg je grenzen.
GPS en hoogte­meter
Ga verder. Ga hoger. Ga dieper.
Muziek
Lekkerder trainen met je favoriete playlists om je pols.
Zwemproof
Altijd klaar voor het zwembad of de zee.
Work-out-app
Meet alles. Van relaxte wandeling tot heftige fietstocht.
Geavanceerde activiteiten­tracker
Drie ringen. Eén doel.
Bewegen, Trainen, Staan
Maak er een sport van om elke dag alle drie je ringen te sluiten.
Slimme coaching
Een duwtje in de rug op het juiste moment.
Activiteiten delen
Blijf gemotiveerd. Versla je vrienden of juich ze toe.
Prestaties
Apple Watch viert iedere mijlpaal met je.
Veelzijdige gezondheidstool
Je lichaam top of mind.
Hartslag-app
Monitor je hartslag bij rust, beweging en herstel na een work‑out.
Ademhaling-app
Breng je geest tot rust. Ontspan je lichaam.
Externe gezondheidsapps
Drink vaker. Slaap beter. Voel je beter.
Gezondheid-app op iPhone
Eén app voor alle data over je gezondheid en conditie.
Altijd alerte assistent
Regel je dag. Zo vanaf je pols.
Siri
Siri is nu sneller en slimmer. En spreekt je toe vanaf je pols.
Wijzerplaten
Allerlei designs. Allemaal aan te passen.
Meldingen
Mis nooit meer iets belangrijks.
Kenmerken:
Kast van spacegrijs-kleurig aluminium
Capaciteit van 8 GB
Ingebouwd gps en GLONASS
Snellere dual-coreprocessor
W2-chip
Barometrische hoogtemeter
Hartslagsensor
Versnellingsmeter en gyroscoop
Waterbestendig tot 50 meter
Gehard Ion-X-glas
Achterzijde van composiet
Wifi (802.11b/g/n, 2,4 GHz)
Bluetooth 4.2
WatchOS 4
38,6 x 33,3 x 11,4 mm
26,7 g
---
Sorry, dit item is niet op voorraad.