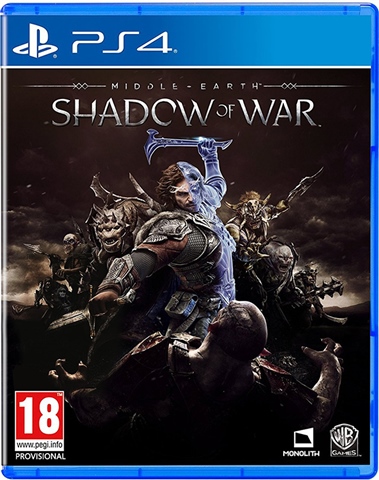 Middle-Earth: Shadow Of War

We verkopen voor
€58.00
We kopen voor geld

€42.00

kopen voor tegoedbon

€46.00

Online op voorraad
Middle-Earth: Shadow Of War
Een sterkere Nemesis
De strijd om Midden-aarde is net begonnen.
Bepaal de koers van de oorlog met het uitgebreide Nemesis-systeem
Keer terug naar de fantastische wereld van Midden-aarde en vecht tegen de dodelijke dreiging van Sauron en zijn Nazghul. Hou de rampspoed en verdorvenheid tegen die zich over het hele land verspreiden.
Middle-Earth: Shadow of War bouwt voort op het kenmerkende Nemesis-systeem van Middle-Earth: Shadow of Mordor en zorgt dat je bij elk conflict midden in alle actie staat. Je vijanden reageren op je aanwezigheid en herinneren zich de eerdere confrontaties die ze met je hebben gehad. Daarnaast reageren dynamische 'Nemesis Fortresses' op je tactische keuzes zodat je op elke locatie een nieuwe aanpak moet bedenken.
'Followers' veranderen het avontuur met nieuwe, afzonderlijke verhaallijnen over hun verlies, loyaliteit en verraad, en zorgen zo voor persoonlijke uitbreidingen van het verhaal van deze wereld.
Middle-Earth: Shadow of War speelt zich af tussen de gebeurtenissen in The Hobbit en The Lord of the Rings en neemt je nogmaals mee naar de legendarische wereld van tovenaars, orks and elven van JRR Tolkien.
---