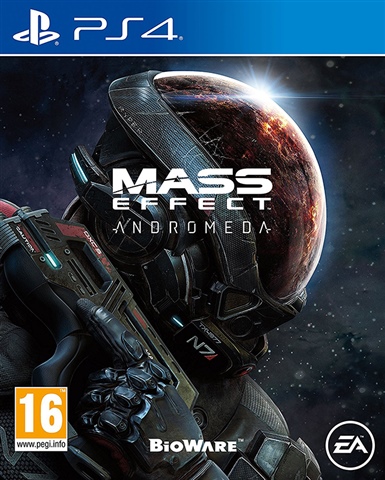 Mass Effect: Andromeda (No

DLC)

We verkopen voor
€22.00
We kopen voor geld

€10.00

kopen voor tegoedbon

€14.00

Online op voorraad
Mass Effect: Andromeda (No DLC)
Leid onze strijd voor een nieuw huis
Mass Effect: Andromeda neemt de speler mee naar het Andromeda-stelsel, miljoenen lichtjaren van de Melkweg. Hier voeren spelers onze strijd om een nieuw thuis te veroveren in vijandelijk gebied als de Pathfinder - de leider van een leger. Dit is het verhaal van het volgende hoofdstuk van de mensheid. De keuzes die de spelers maken tijdens het spel zal uiteindelijk bepalen of wij het overleven.
Kruip in de huid van de Pathfinder
Vaar je eigen koers in een gevaarlijk nieuw sterrenstelsel. Ontrafel de mysteries van het Andromeda-stelsel terwijl je rijke nieuwe werelden ontdekt in je zoektocht naar een nieuw thuis voor de mensheid.
Het Mass Effect Universum waar je van houdt
Wijs de eerste mensen de weg in een wanhopige zoektocht naar een nieuw thuis. Ontmoet en rekruteer in dit nieuwe hoofdstuk in de Mass Effect-serie compleet nieuwe interessante personages in een epische ruimtesaga vol mysterie en galactische conflicten.
Vecht als nooit tevoren
Ga met jouw Pathfinder Team de strijd aan met angstaanjagende vijanden en wezens. Nieuwe toevoegingen zoals vernietigbare omgevingen, boosted jumps voor een verhoogde verticaliteit en compleet nieuwe wapens en Biotics maken gevechtssituaties heftiger dan ooit.
Speel op jouw manier
Stel een ontzagwekkende held samen met ongelofelijke wapens, krachten en technologie. Dankzij de flexibelere progressie in skills en wapens kun je je eigen gevechtsstijl creëren om je onverslaanbaar te maken tegen nieuwe machtige buitenaardse vijanden.
Multiplayer - Welkom bij de APEX Forces.
In de multiplayer-mode in Mass Effect Andromeda kom je terecht in een 4 player co-op fire-team ervaring. Ga samen met tot 3 vrienden de strijd aan tegen de vijandelijke dreiging daar waar de Pathfinder niet kan zijn om het belang van het Andromeda Initiative te beschermen.
Test jouw skills in een compleet nieuw missie systeem. Volbreng uitdagingen en objectives terwijl je naar verschillende locaties reist om doorslaggevende informatie te vergaren en belangrijke vijandelijke doelen te elimineren. Doe gezamelijk ervaring op en verzamel objecten om je character kit te customizen.
Of je nu thuis bent of onderweg, je kunt je altijd aansluiten bij nieuwe Strike Teams waarmee je progressie kunt blijven boeken en rewards kunt verzamelen voor je single player campaign of multiplayer inventory.
---