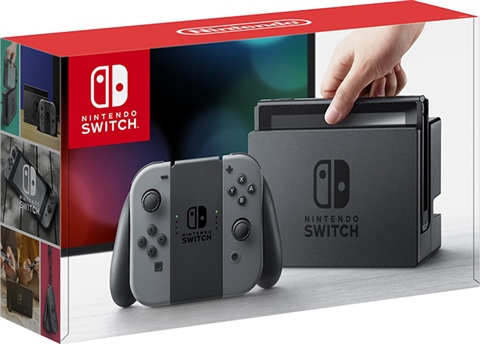 Nintendo Switch Console, 32GB

+ Grijs Joy-Con, Met Doos

We verkopen voor
€365.00
We kopen voor geld

€237.00

kopen voor tegoedbon

€273.00

Online op voorraad
Nintendo Switch Console, 32GB + Grijs Joy-Con, Met Doos
De huis console waarmee je overal kunt spelen!
Nintendo Switch is een doorbraak home video game console. Het verbindt niet alleen met een tv in huis, maar verandert ook direct in een on-the-go handheld met behulp van het 6,2-inch scherm. Voor het eerst kunnen spelers op elk moment genieten van een volledige home-console-ervaring, waar dan ook.
Deel de vreugde direct uit de doos!
Nintendo Switch maakt het gemakkelijk voor spelers om verbonden te blijven. Tot 8 consoles kunnen worden aangesloten voor lokaal draadloos spelen. Door het rechtop te plaatsen van de console met behulp van de ingebouwde standaard, kunnen spelers zelfstandig gebruik maken van de linker en rechter Joy-Con controllers multiplayer fun - overal.
Speel in 3 modes!
De veelzijdige Joy-Con biedt meerdere verrassende nieuwe manieren voor spelers om plezier te hebben. Twee Joy-Con kunnen onafhankelijk worden gebruikt in elke hand, of samen als een game controller wanneer ze zijn aangesloten op de Joy-Con grip. Ze kunnen zich ook hechten aan de hoofd console voor gebruik in de handheld-modus, of worden gedeeld met vrienden om te genieten van twee-speler actie in ondersteunde games.
Ervaar HD trillingen!
Beide Joy-Con hebben onder andere geavanceerde HD trillingen, die compatibel zijn met games met subtiele trillingen, veel realistischer dan voorheen. Het effect is zo gedetailleerd dat een speler bijvoorbeeld de trillingen van de afzonderlijke ijsblokjes die botsen in een glas kan voelen. Dankzij HD trillingen zul je het niveau van realisme niet alleen ervaren door middel van beelden en geluiden.
Meer dan het oog kan zien!
De linker Joy-Con heeft een Capture Button die spelers kunnen indrukken om direct screenshots van gameplay te nemen om te delen met vrienden op sociale media. De rechter Joy-Con is voorzien van een NFC contactpunt voor de interactie met amiibo figuren, evenals een IR-Motion Camera die de afstand, de vorm en de beweging van objecten in de buurt in speciaal ontworpen games kan detecteren! Elke kamer heeft een accelerometer en gyroscoop bewegingssensor, waardoor onafhankelijk links en rechts motion control mogelijk is.
Deel de vreugde direct uit de doos!
Twee Joy-Con controllers worden geleverd met elke Nintendo Switch, wat betekent dat je bent ingesteld voor een multiplayer uit de doos! Voor het opladen plak je ze gewoon op de Nintendo Switch console of Charging Grip.
---