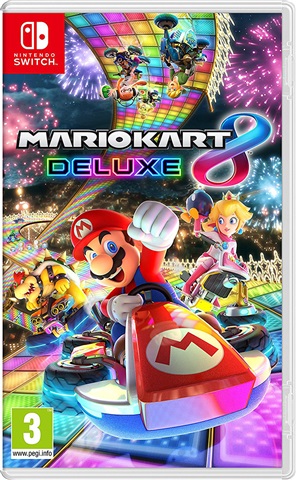 We verkopen voor
€55.00
We kopen voor geld

€24.00

kopen voor tegoedbon

€34.00

Online op voorraad
Mario Kart 8 Deluxe
Speel de grootste Mario Kart-game tot nu toe altijd, overal en met iedereen: Mario Kart 8 Deluxe, exclusief voor de Nintendo Switch!
Speel Mario Kart waar je maar bent!
Speel tegen je familie op de tv in de huiskamer. Of in het park. Of wanneer je bij vrienden op bezoek bent. Met de Nintendo Switch speel je Mario Kart altijd, overal en met iedereen!
In de handheldstijl kunnen acht spelers verbinding met elkaar maken voor lokaal multiplayerplezier. In de tv-stijl of tafelstijl kun je met vier spelers tegen elkaar racen op een split-screen!
Maak verbinding met het internet en race tegen spelers van over de hele wereld. Maximaal twaalf spelers kunnen online tegen elkaar racen, waarbij twee spelers kunnen deelnemen op dezelfde Nintendo Switch!
Meer circuits dan ooit om op te racen!
Inclusief circuits gebaseerd op Animal Crossing, Excitebike, The Legend of Zelda en meer!
Maak handig gebruik van voorwerpen!
Dat je nu twee voorwerpen tegelijk kunt dragen maakt compleet nieuwe strategieën mogelijk, zowel tijdens races als tijdens gevechten!
De gevechtsstand is groter dan ooit!
Gevechten zijn opnieuw vormgegeven en omvatten Ballongevecht en Bob-omb-bende, met gloednieuwe circuits zoals Forelviaduct en Gevechtsstadion, en vertrouwde banen als Luigi's Landgoed uit Mario Kart: Double Dash!! (Nintendo GameCube) en Gevechtsarena 1 uit Super Mario Kart (SNES).
Strijd in acht nieuwe levels met bijzondere thema's!
Meer plezier met amiibo
Als je een compatibele amiibo (niet inbegrepen) gebruikt, zoals amiibo van Super Mario, Splatoon en Animal Crossing, kun je outfits van deze personages krijgen voor je Mii-personages! Je kunt amiibo gebruiken met de Nintendo Switch door ze tegen het NFC-aanraakpunt op de rechter-Joy-Con of Nintendo Switch-Pro-controller (niet inbegrepen) aan te houden.
---