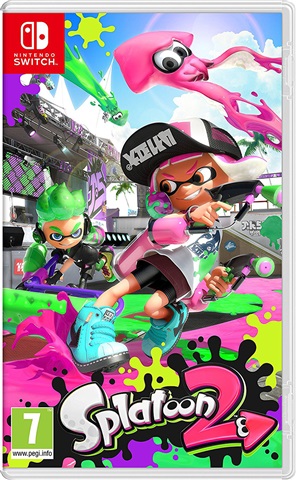 We verkopen voor
€42.00
We kopen voor geld

€18.00

kopen voor tegoedbon

€26.00

Online op voorraad
Splatoon 2
Klieder altijd, overal en met iedereen in Splatoon 2, exclusief voor de Nintendo Switch. In dit vervolg op de succesvolle shooter kun je opnieuw potjes van vier tegen vier spelen. Daarnaast zijn er nieuwe levels, nieuwe kleding, nieuwe wapens en nog veel meer!
In Grondoorlog (oftewel Turf War) is het doel simpel: zo veel mogelijk terrein veroveren door het te bedekken met de kleur inkt van jouw team. Het team met het grootste territorium wint! Verander in een inktvis om razendsnel door de inkt van je team te zwemmen. Op die manier kun je ook muren beklimmen die onder de inkt zitten, nietsvermoedende tegenstanders in een hinderlaag lokken en tal van andere tactieken uitkienen.
Nieuwe wapens
Spelers kunnen kennismaken met de nieuwe Dubbelknallers (Splat Dualies) en aanvallen ontwijken met een vliegensvlugge koprol. Oude favorieten zoals de Klodderroller (Splat Roller) en de Bloplader (Splat Charger) zijn vernieuwd. Bovendien kun je jezelf uitleven met gloednieuwe speciale wapens.
Nieuwe spelstand: Salmon Run
Werk in deze gloednieuwe stand samen met maximaal drie andere spelers om agressieve Salmonieten te verslaan en kostbare eieren te verzamelen.
Lokale en online multiplayerstand
Voor het eerst in de serie kun je in de lokale multiplayerstand met elkaar Grondoorlog spelen in de tv-stijl, of buiten de deur in de handheld- of tafelstijl. Je kunt maximaal tien Nintendo Switch-systemen die in de houder staan met elkaar verbinden via een vast netwerk om zonder internetverbinding lokaal privétoernooien te houden. Je kunt dan met zijn achten samen spelen, terwijl twee anderen als toeschouwer de actie kunnen volgen. Je kunt uiteraard ook opnieuw online spelen.
Singleplayerstand
Callie, zangeres bij the Squid Sisters, is vermist. Marie vraagt je om hulp om Callie op te sporen. Gebruik diverse wapens, waaronder de Klodderroller, de Morser, de Spetling of de nieuwe Dubbelknallers om hindernissen te overwinnen, vijanden te verslaan en enorme eindbazen in het stof te laten bijten. Kun jij de Squid Sisters weer bij elkaar brengen?
Nieuwe manieren om te spelen
Speel op de tv, in de handheldstijl of in de tafelstijl met behulp van de Joy-Con of de Nintendo Switch-Pro-controller (apart verkrijgbaar). Door middel van bewegingsbesturing kun je nauwkeurig richten.
Nieuwe mode
Sommige oude bekenden laten opnieuw hun gezicht zien, maar je kunt ook kennismaken met nieuwe personages.
Nieuwe levels
Inklings kunnen gloednieuwe levels zoals Lekkerbektrack (Humpback Pump Track) en Vinvis Fitness (Musselforge Fitness) ontdekken.
---
Splatoon 2
heeft als beoordeling van de
5
door
1
.
Rated

5

van de

5
door
Jeroen7261
uit
Verslavend!
Erg leuke 'shooter'! Gameplay is goed in elkaar gezet en top, zeker een aanrader voor iedere Switch.
Datum plaatsing: 2017-09-11